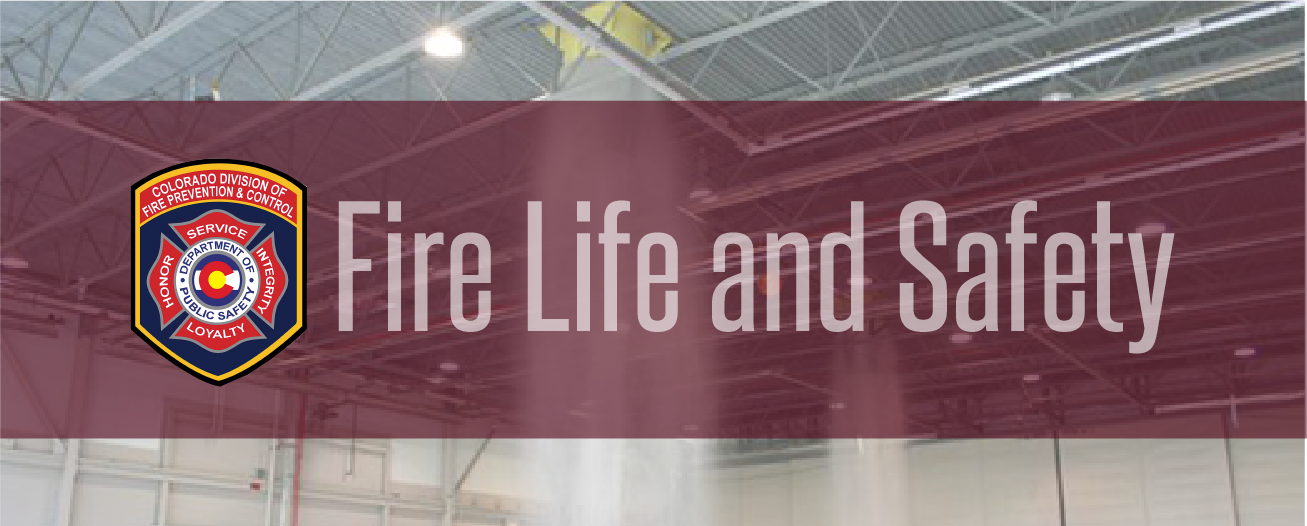 To contact the Fire and Life Safety Section, 303-239-4100
Update: 1010.1.11 Classroom Door Hardware
The Fire and Life Safety Section administers the fire, building, and life safety codes adopted by the Division. This administration involves the review of construction documents, issuing permits,  inspecting construction, and regular maintenance inspections of regulated facilities including public school and junior college, health care, and limited gaming, waste tire, and hotel/motel facilities as well as facilities protected by fire suppression systems. In many cases, authority over regulated facilities is delegated to local fire and/or building officials through Intergovernmental Agreement (IGA) or certification. The Section is also available to assist local fire and/or building officials with plan review, inspection, or code analysis of non-regulated facilities, at their request.
You can pick up permits Monday through Friday between the hours of 8am-4pm.
The Section is also responsible for administering the Fireworks Regulatory Program.  This entails licensing of anyone who sells fireworks within the State, certification of those who perform professional fireworks or pyrotechnic displays, and permitting of displays in areas without local fire authority. The requirements established by the Section are in addition to any adopted by local fire, building, or planning authorities.
NOTICE: After January 1, 2017, Paper applications and submittals will no longer be accepted for Plan Review or Permitting, without previous written permission from the Fire and Life Safety Section. Please access our online application at the following link,
Fire & Life Safety Records Management System (RMS)
On July 1, 2016, DFPC implemented Colorado's PayPort system for all Credit Card and Check transactions. This was done to be compliant with the PCI (Payment Card Industry) data security standard. However, this service is provided by a third party, working in partnership with Colorado, and there is a price to purchase these services, which include funds used to develop, maintain and enhance the state's Official web portal.The price to make a Credit Card payment to DFPC will be $0.75 plus 2.25% of the transaction amount. The flat fee for an ACH or electronic check payment is $1.00. Since the transaction must be processed through the state's official web portal, Colorado.gov, the payment is subject to portal pricing and under a contract administered under the authority of Colorado's Statewide Internet Portal Authority as designated in statute CRS 24.37.7-101.