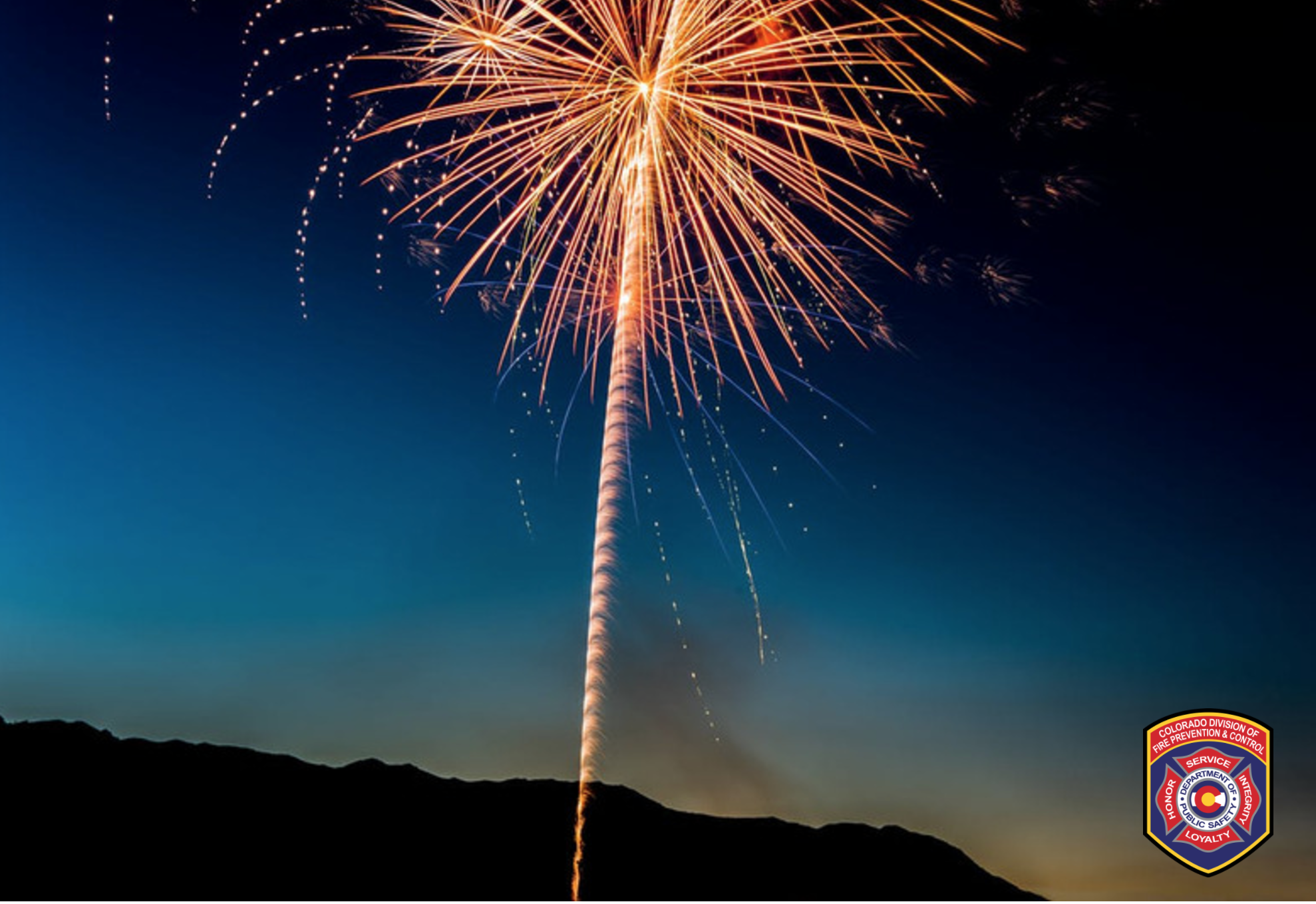 DFPC Recommendations
DFPC recommends attending professional fireworks displays rather than using personal fireworks. Professional displays are a safe way for the public to enjoy fireworks because they are carefully monitored and permitted, and include support from local fire departments. Colorado also urges residents to check any local fire restrictions and ensure that any type of consumer fireworks used comply with state laws.
Firework Facts
Purchasing fireworks in another State and then transporting these fireworks across State lines is illegal in Colorado.

Only fireworks that do not leave the ground and do not explode are legal in Colorado.

Check local fire restrictions before using consumer fireworks (www.colorado.gov/dfpc)
Each year the Consumer Product Safety Commission (CPSC) compiles a report reviewing fireworks related injuries. Here are some facts from the 2012 report which can be found at: https://goo.gl/9WNT1s

Fireworks start an average of 18,500 fires per year, including 1,300 structure fires, 300 vehicle fires, and 16,900 outside and other fires. These fires caused an average of three deaths, 40 civilian injuries, and an average of $43 million in direct property damage.  
In 2015, U.S. hospital emergency rooms treated an estimated 11,900 people for fireworks related injuries; 51% of those injuries were to the extremities and 41% were to the head. Children younger than 15 years of age accounted for one-quarter (26%) of the estimated 2015 injuries. These injury estimates were obtained or derived from the Consumer Product Safety Commission's 2015 Fireworks Annual Report via https://goo.gl/aMH1Kh

The parts of the body most often injured were hands and fingers (estimated 1,900 injuries), eyes (1,600 injuries), and head, face, and ears (900 injuries).

More than half of the injuries were burns. Burns were the most common injury to all parts of the body except the eyes, where contusions, lacerations, and foreign bodies in the eye occurred more frequently.

98 % of the imported fireworks in the USA are imported from China
Fireworks Safety Tips:  
Always read directions
Always have an adult present
Only use fireworks outdoors 
Never use near dry grass or other flammable materials
Light one at a time
Have a bucket of water and a hose nearby
Fireworks Injury Prevention Safety Tips:
Never place any part of your body directly over a fireworks device when lighting the fuse
Back up several feet immediately after lighting fireworks
Never point or throw fireworks at another person
Never experiment with fireworks
Never attempt to re-light or "fix" fireworks
Do not wear loose fitting clothing while lighting fireworks
Never carry fireworks in your pockets
Fireworks are not toys.